We have a constantly evolving stock of certified pre-owned bicycles that come through California Bicycle, so be sure to check back here for all current Certified Pre-owned Bicycles in stock. We are a licensed shipping agent with ShipBikes.com and are ready and willing to ship to the lower 48 states for your convenience!

Felt F65X Adventure - Sz: 53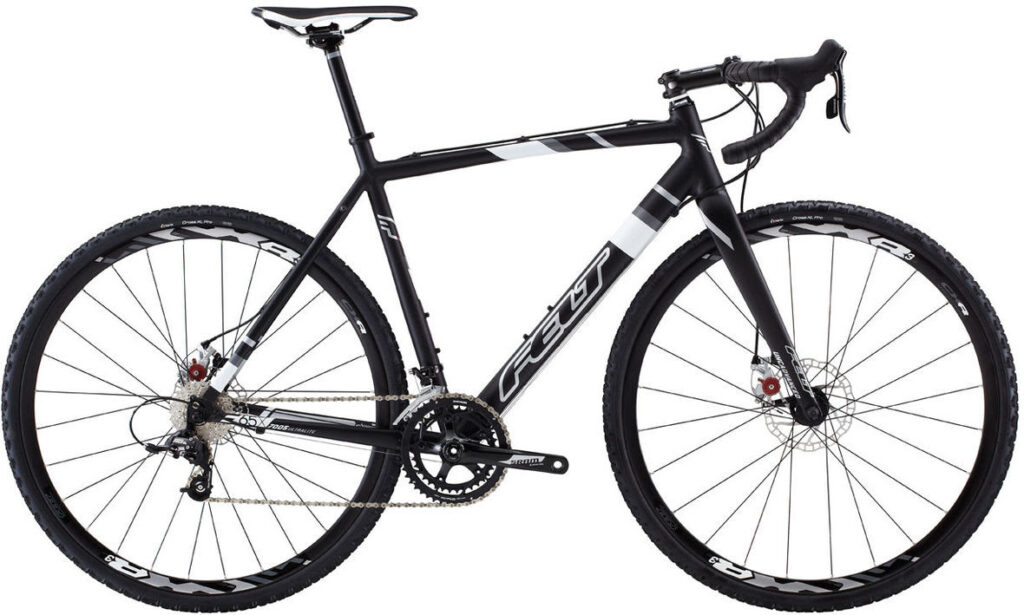 The Felt F65X Adventure bike is ready for any terrain that you are ready and willing to tackle! The F65X Adventure has the performance of a road bike, but with clearance for larger tires in order to get you through any terrain. This bike is like new, ridden a few times at most, less then 100 miles!
MSRP $1699.99
Now $999.99
SARTO / Campagnolo Limited Edition - Sz: LG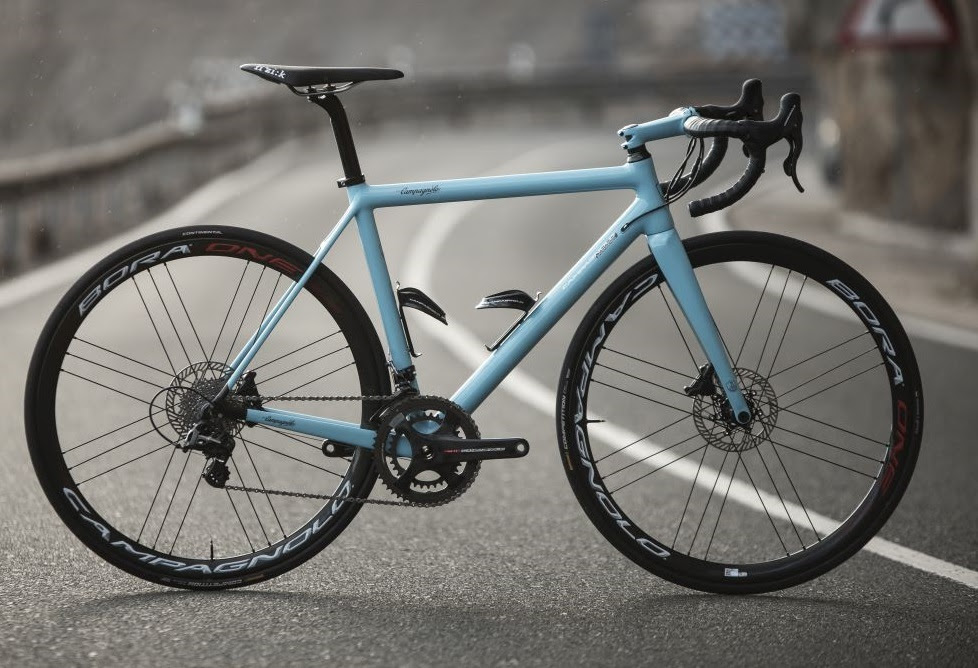 Are you looking for something unique and rare? Than look no further, this is a Limited Edition Sarto that was made for Campagnolo in extremely low numbers to showcase there new H11 EPS Hydraulic brakes and EPS electronic shifting Component group. The pictures don't do this bicycle justice. It is one of six made, its five brothers and sisters have sold, and this is the last one we have in stock so give us a call today as this bike is sure to go quick!
MSRP $15,999.99
Now $10,999.99
Lightweight Urgestalt Disc - Sz: 56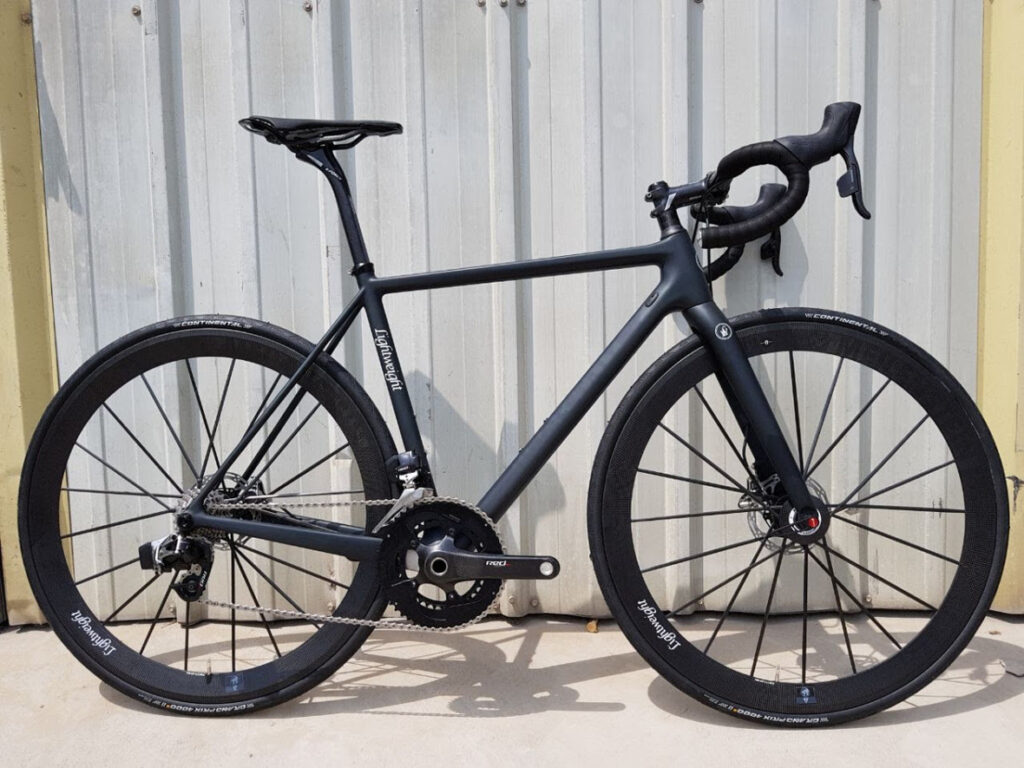 The Urgestalt Disc from Lightweight usually finds its way to every cyclists short list of dream super bikes. This is your opportunity to have the bike of your dreams at a large savings. Built with SRAM Red ETAP wireless, Lightweight wheels, handlebars, seatpost, and complimented by a plethora of other top tier components round out this lightly used super bike!
MSRP $17,999.99
Now $14,999.99
Dave Moulton Vintage Pro Road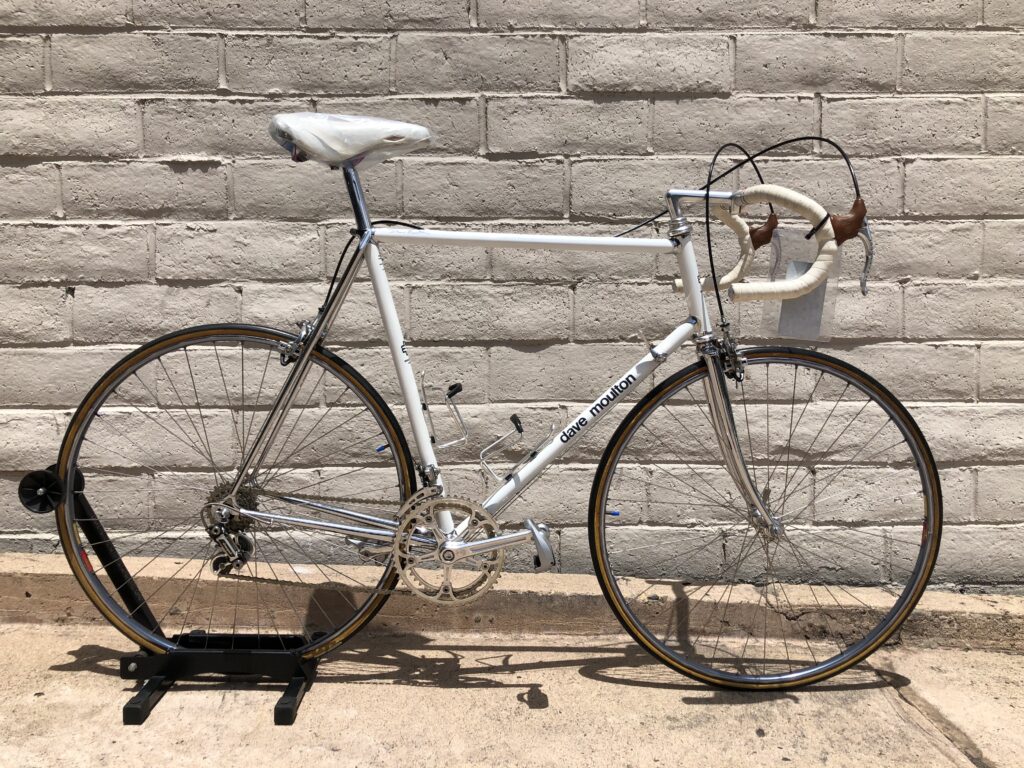 Fully Optioned Pro Road frame set including; chrome Lugs, chrome chainstay, chrom fork, chrome crown, chrome seat stays, chrome chain stays, and chrome bottom bracket shell. Drivetrain is full Campagnolo Super Record Circa 1984. The wheel set is a custom set of Mavic SSC blue anodized hoops built on Camoagnolo record hubs. Bike has hardly been ridden and is truly in excellent condition, call for more details and information!
Call for Pricing: 858-454-0316
Campagnolo Handmade Custom Single Speed - 58cm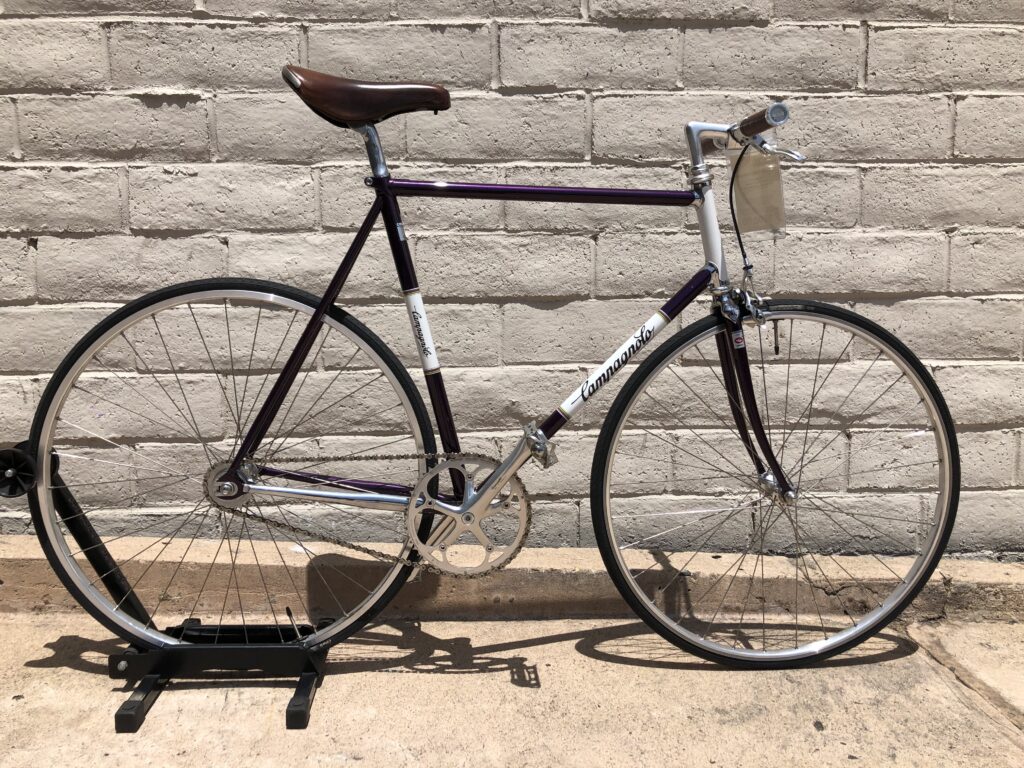 This is a truly custom handmade Campagnolo single speed bike with Columbus Cromo steel tubing and full Campagnolo Chorus drivetrain and brakes. This bike is truly a one of a kind and is sure to turn heads around town with its simplistic elegant stylings and perfectly crafted aesthetics!
MSRP $4,999.99
Now $3,500
SPOT Coyote SS - Sz: SM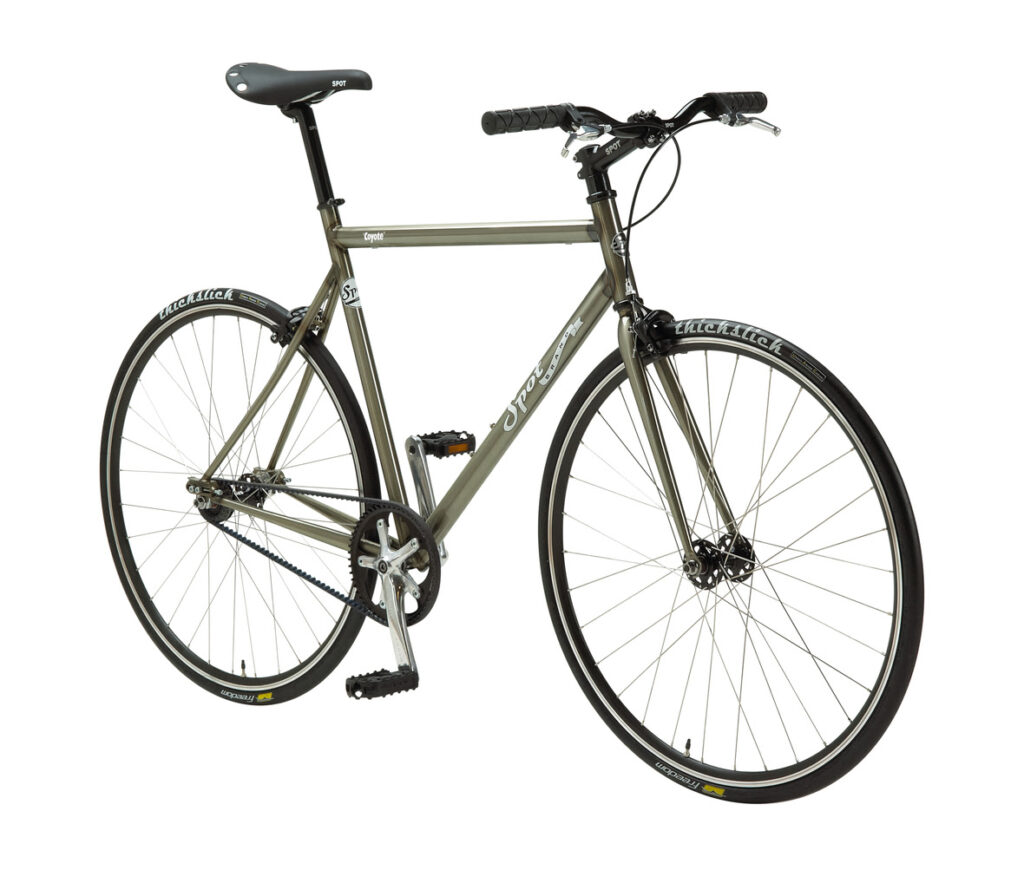 Simplicity at its finest. The Spot Coyote was designed to be the ultimate in low maintenance. Belt drive, single speed, front and rear brakes, everything you need and nothing more. Finished beautifully in a RAW Steel / Clear Coat
MSRP $1299.99
Now $499.99
SPOT Ajax Belt Drive - Sz: XL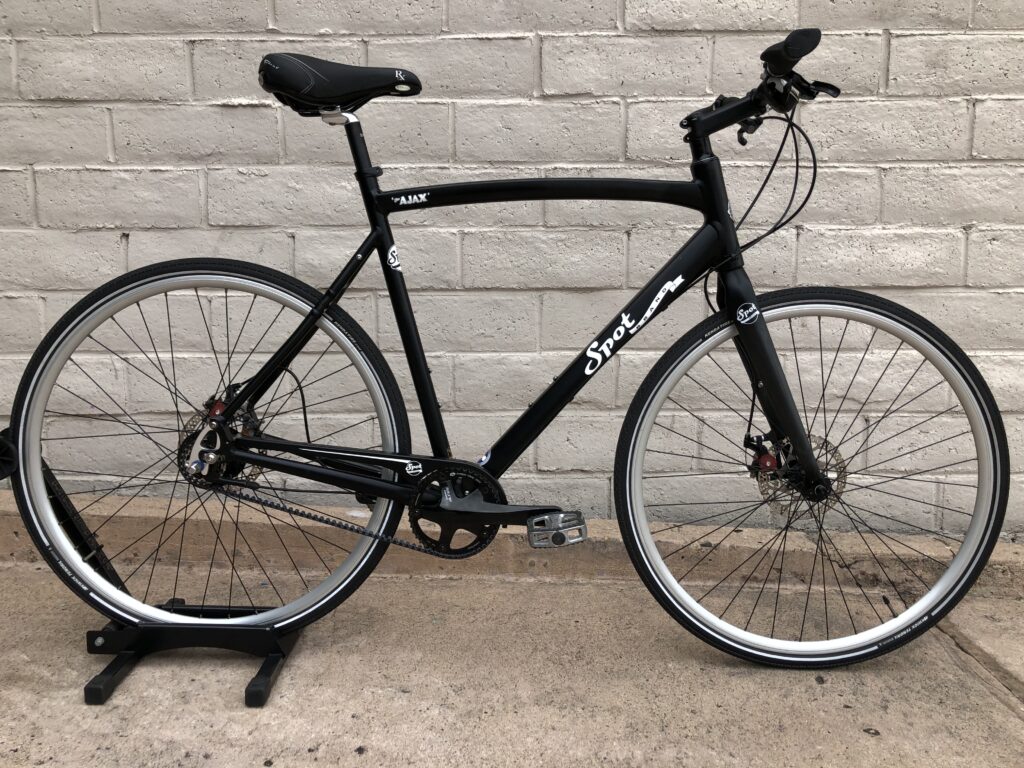 Spot Brand bikes, a family-owned bicycle company located in Colorado, have quickly become one of the best all around belt driven hybrids on the market. These bikes are the ultimate in low maintenance, as they feature an internal Shimano 8 Speed shift system and utilize a carbon belt drive as opposed to a traditional chain and cassette drivetrain. This bicycle was originally purchased from California Bicycle and has only had one owner, serviced regularly, low miles, and needs nothing but a new home!
Asking $999.99
Cervelo P3C Carbon - Sz: SM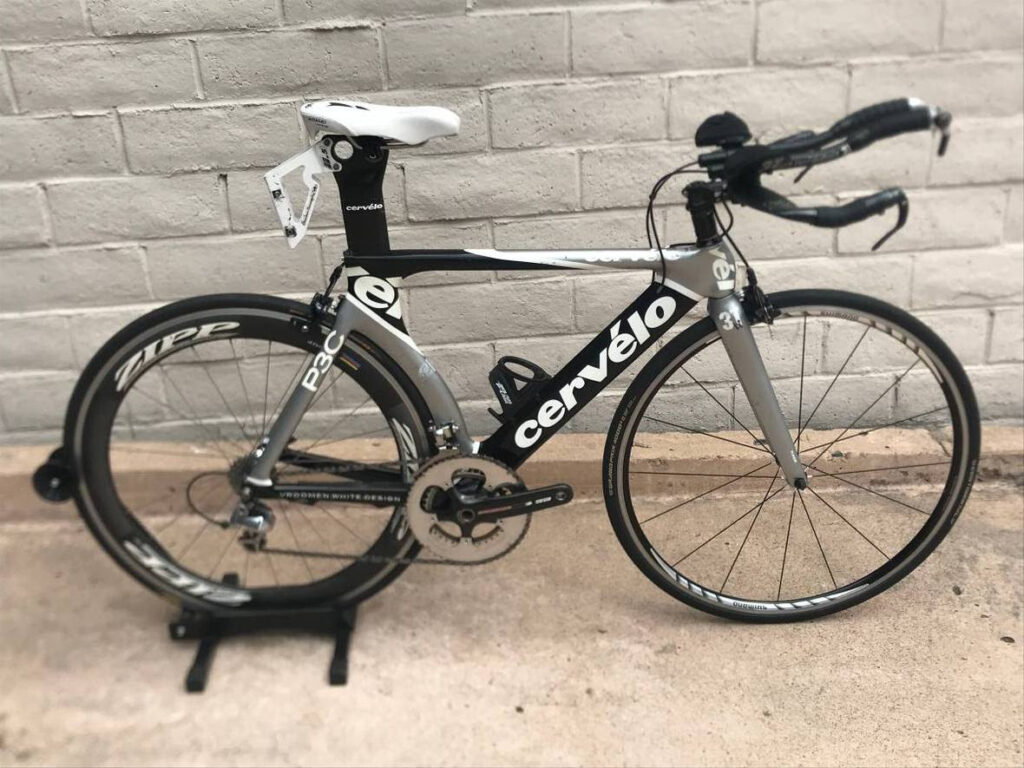 The P3 is an iconic bike in the triathlon and time trial circuits. Offering real-world aerodynamic advantage and flexibility in fit and positioning, the P3 will enable you to be the fastest version of yourself. This bike is time trial and triathlon ready. Ready to ride. Zipp Rear wheel, Shimano Dura Ace Components, Carbon 3T handlebar.
MSRP $5999.99
Now $999.99
Stromer ST2S - Sz: XL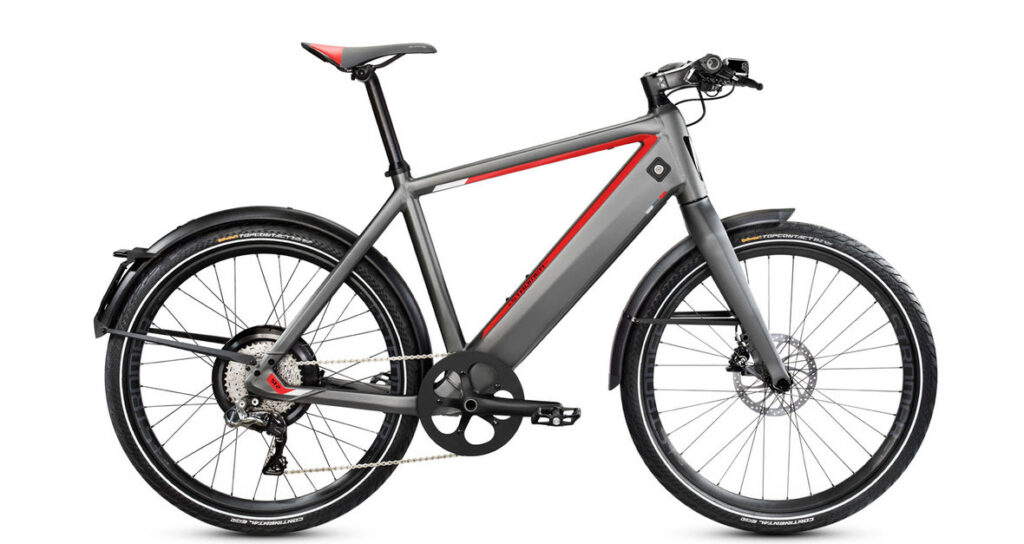 The Stromer ST2 S: in a league of its own in every respect. An e-bike with no ifs and buts. It is the perfect mode of transport to complement your premium sedan or your sports car, because it is the power pack among e-bikes. All components are of the finest caliber. This is how to build status symbols: by combining strength with innovation. Less than 100 miles - Showroom condition.
MSRP $8999.99
Now $6999.99
FELT Verza E - Sz: MED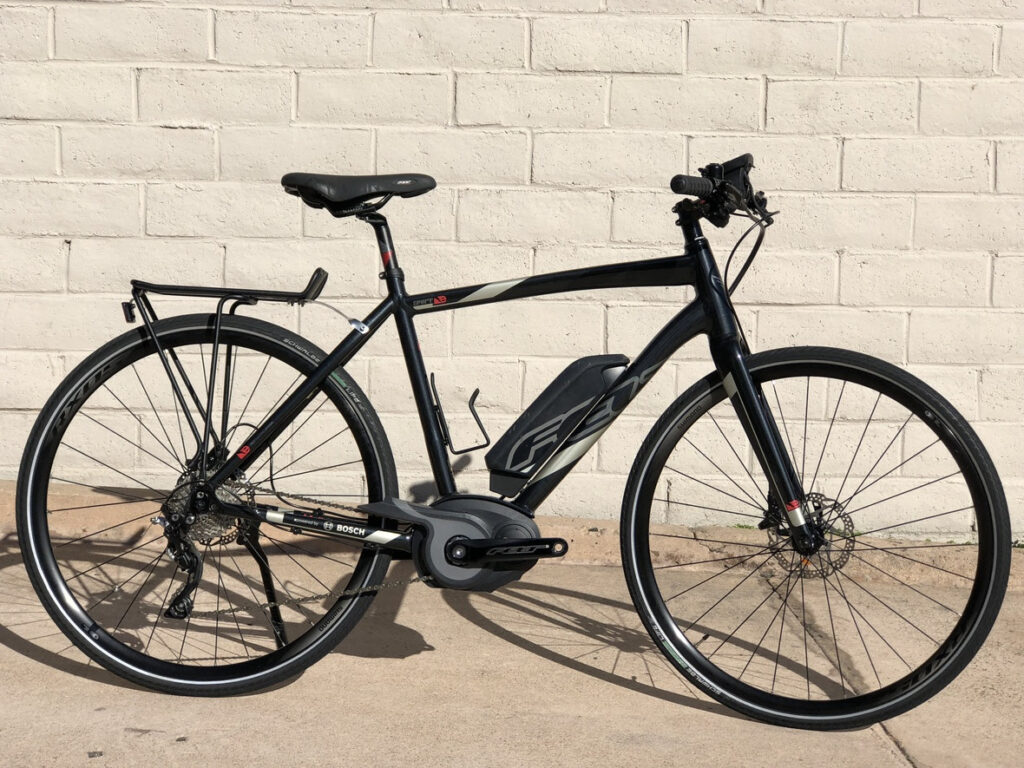 The Felt Verza is one of the lightest assist bicycles available with a powerful Bosch motor system, 60+- mile range and a nimble - comfortable ride quality. This bike has less than 100 miles on the ODO!!
MSRP $3999.99
Now $1999.99
Litespeed Archon C2 Carbon - Large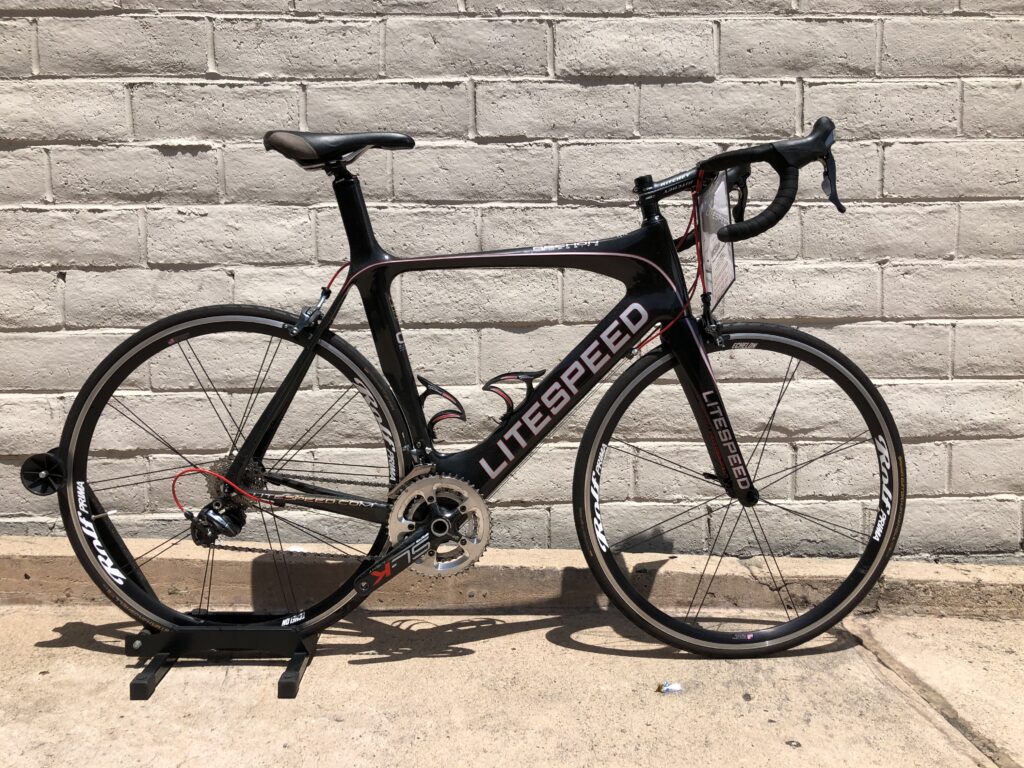 Described at its release as "untouchable for the money" by Velo Magazine and "a true original" by Peloton. The Litespeed Archon series has a full array of AeroLogic features; including an adjustable aero seat post and internally routed cables. The Super Modulus carbon C1 converts our wind-tunnel qualified data set into an easy real-world advantage. Bike was extremely well maintained, has low miles, and is in truly gorgeous condition!
MSRP $3500.00
Now $2150.00
Gary Fisher - Vintage CR7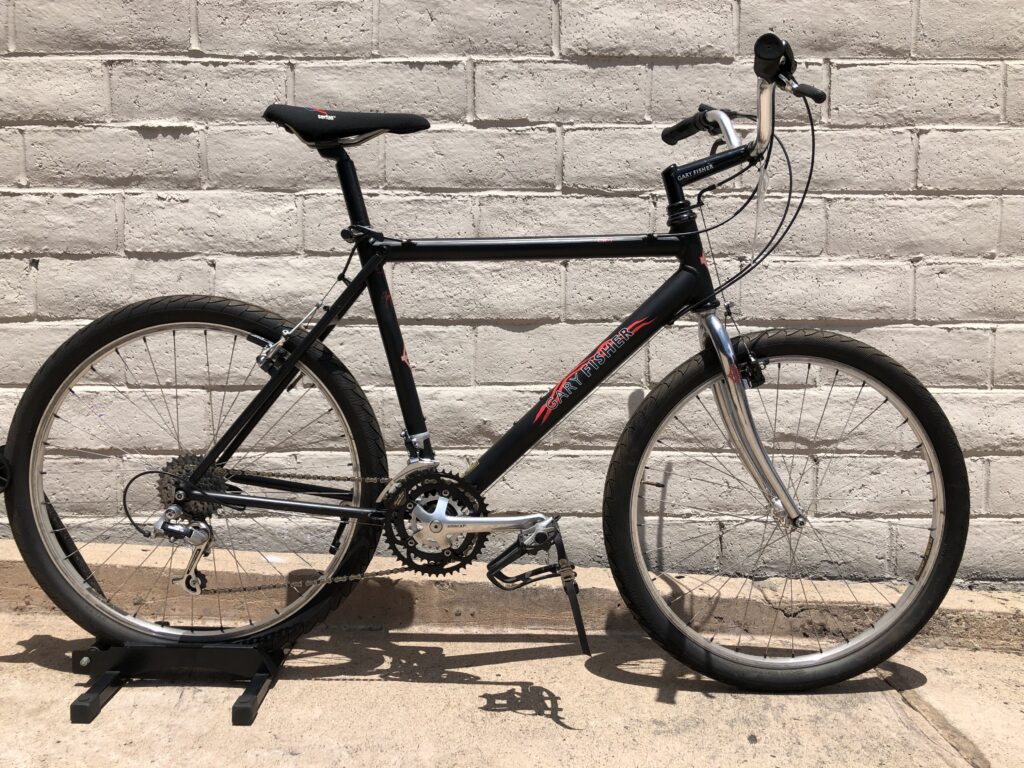 The Gary Fisher CR7 is a mountain bike that really can be considered one of the innovators in the history of mountain biking. This bike has been extremely well maintained and never truly ridden very hard in the dirt, most miles were done on the road until this point. Bike is ready to roll it just needs the perfect owner with that distinct love for that vintage mountain bike styling!
MSRP $2999.99
Now $1500.00
Kestrel Talon Carbon - 56cm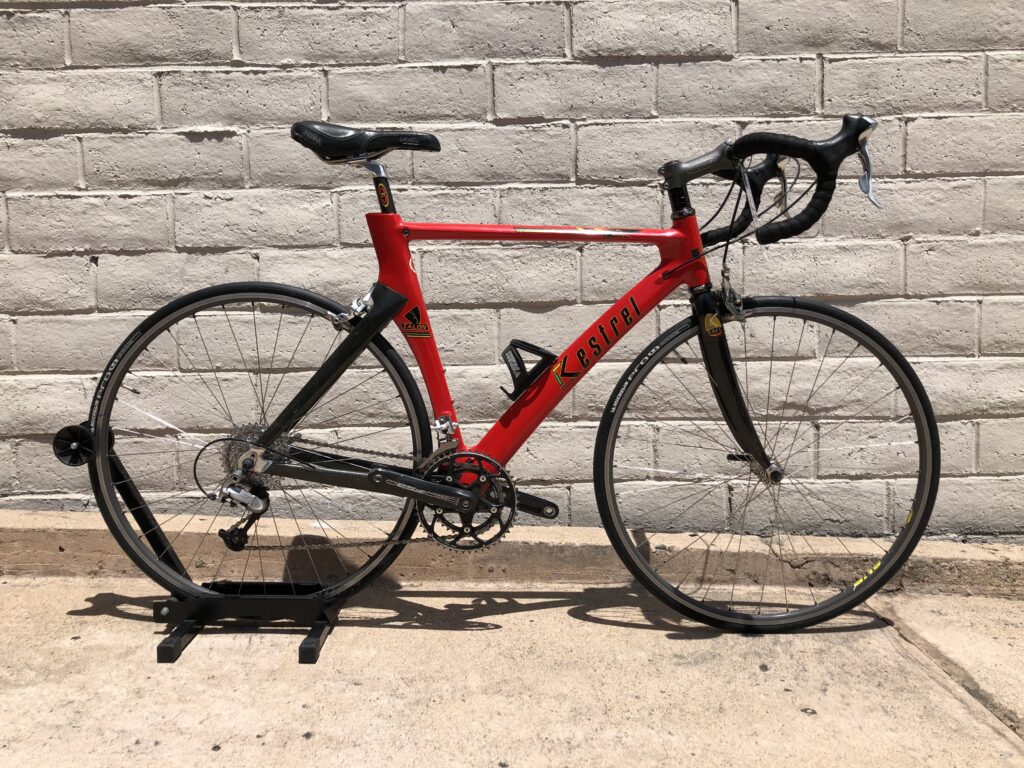 The Kestrel Talon holds a long heritage of phenomenal triathlon bikes through the decades at this point and this is no exception! With a Shimano Deore XT drivetrain, FSA crankset, and Chris King headset this bike is ready to ride. Looking for a perfect bike for your first triathlon or road race, then look no further then this steal of a deal on a full carbon fiber Talon from Kestrel!
MSRP $1299.99
Now $799.99
Felt Café 7 Hybrid - XL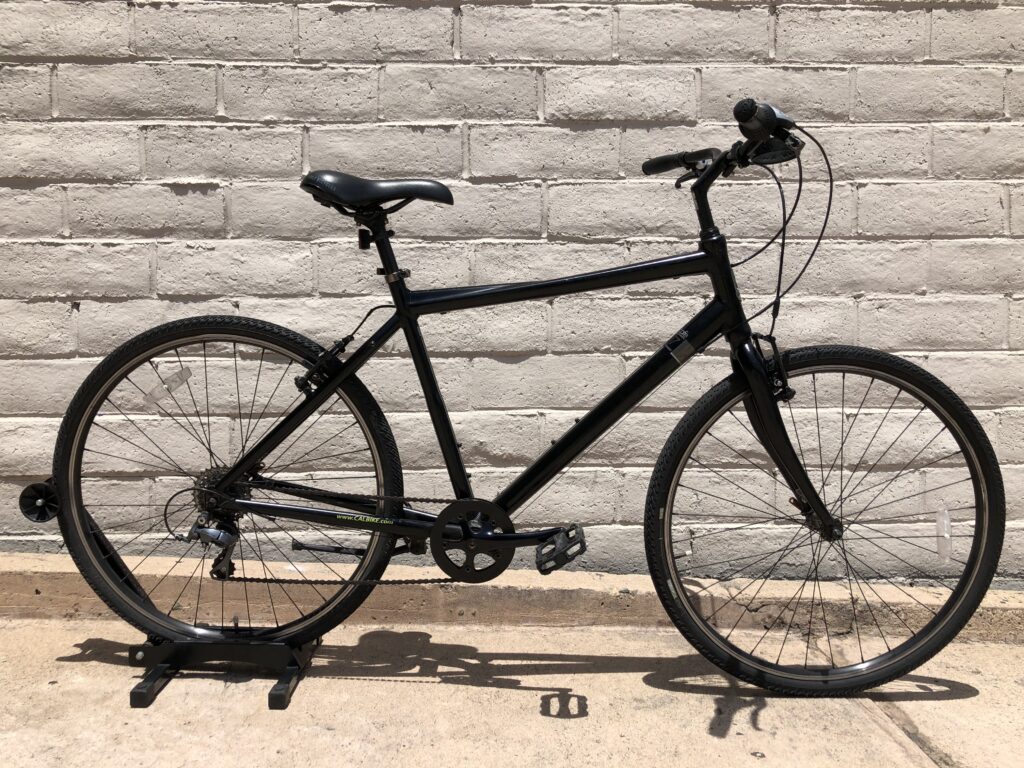 The Felt Verza Cafe 7 is our go-to bike for Rail Trail & recreational around-town riders who want a fast and comfortable paved trail or city bike, but want to look great riding it too. The Felt Verza Cafes have been some of our best sellers after people ride them because they're high performance yet still so much fun. Designed for comfort with relaxed geometry, a light, sturdy aluminum frame and 7-speed Shimano twist-shift drivetrain, the Felt Versa Café 7 is the perfect do-it-all city bike.
MSRP $499.99
Now $199.99
Schwinn Voyageur GS - Medium (17")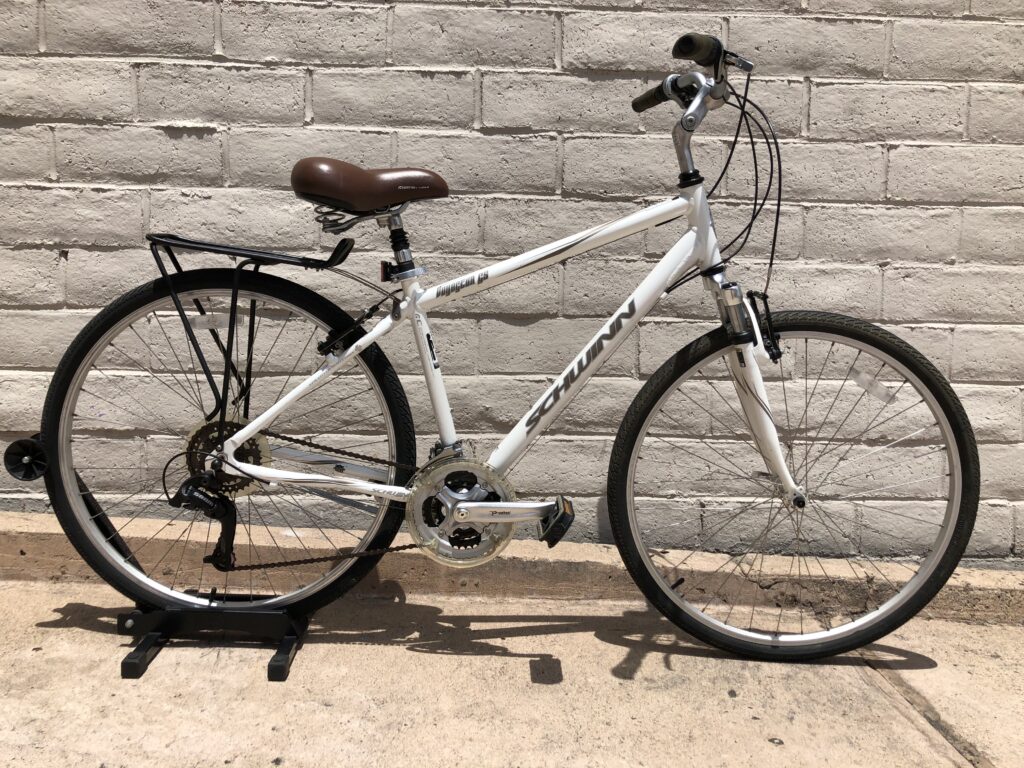 Schwinn's Voyageur GS is perfect for those looking for a great bicycle that does it all. Schwinn's aluminum frame rides like a dream and boasts an upright riding position. And, to ensure an ultra-smooth ride, the Voyageur GS boasts a suspension fork and suspension seatpost. Plus, this great ride features quick-rolling aluminum wheels, linear-pull brakes for amazing stopping power and a 21-speed drivetrain so you'll cruise through every journey with ease.
MSRP $379.99
Now $179.99